Original Poem Commissions
An original poem written specifically for and about someone you love, is a truly special gift to give.
The Original Poet specialises in writing original rhyming poems for your original people. She is passionate about capturing the essence of the person or people she is writing for and does so with great warmth. Written in rhyming verse, her words are friendly, witty, moving and always devoid of cliché
The perfect gift for special occasions, weddings, birthdays, anniversaries, christenings or any other celebration in need of an original touch!
Order an original poem
Original Poem Collection
Browse our poem collection to find poem prints for all occasions.
You'll find poems for children, friends, family and loved ones. Rhymes to celebrate birthdays, anniversaries, christenings, weddings and new arrivals.
In fact, there's a poem for just about anyone and any occasion where well-chosen words are called for.
Buy now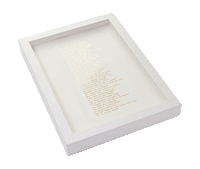 Foiled Prints
A collection of poems with extra sparkle!
Browse our foiled poem prints and find beautiful words combined with beautiful designs, all hand-foiled in a choice of silver, gold or rose gold.
Simple, elegant and timeless, the words are always the star of the show, but in this collection, they're touched with an extra bit of magic.
BUY NOW
Testimonials
It's absolutely stunning, I can't thank you enough. It's going to be such a lovely Christmas gift. I'm over the moon with it. Thank you again.

Louise Evans
Just to say a huge thank you for your birthday poem, it's perfect Lizzie and I know mum will love it. It moved me to tears.

Carrie Donohoe
I cannot recommend Lizzie more highly, she will bring you to tears so BEWARE! But it will be the most beautiful investment you will ever make.

Jason Hayward